Mon Dieu
GSM
Mon Dieu GSM
Pizza wine!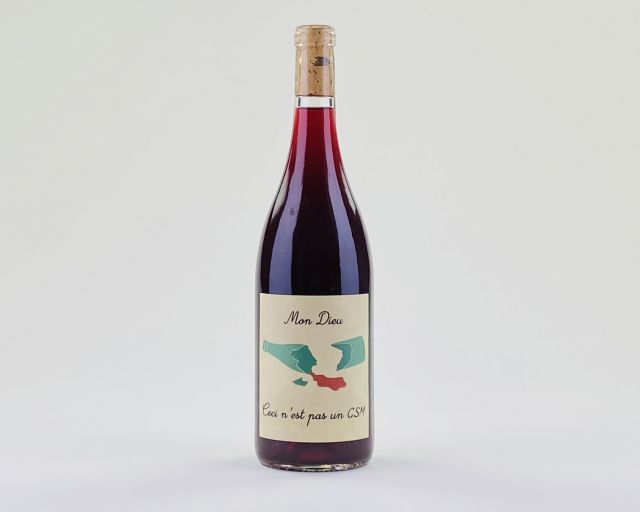 Smells like kitchen herbs (rosemary and oregano) with tart raspberries and fresh earthy punch. Stays light and fresh with a soft texture. This play on art and wine is everything we are looking for this season! Referencing the famous surrealist painting by René Magritte, this wine is 'not a GSM' or traditional blend of Grenache, Syrah, Mourvèdre. GSM wines are famous for being the Aussie version of a huge red blend. However, this one from California was made by co-fermenting (fermenting together versus separately then blending) all three grape varieties together. Creating the perfect pizza wine (yes, another one because we love pizza and you do too!).
Delicious With
Pizza and all things pizza-like. Great with tart umami flavors from tomatoes, as well as mushrooms, soy sauce, BBQ sauce, goat cheese, or jerky.
Their Cred
Mon Dieu is a collaboration between Press Gang and Baire Wines (an importer and distributor of hyper boutique wines). Winemaker Kyle from Press Gang will often play around with a few barrels of wine here and there to experiment with new techniques or grapes and this beauty of a wine happened to be one of those tests. Sebastian and Claire of Baire Wines tasted this with Kyle and instantly fell in love with the style. They crafted a beautiful story for this freshly 'surreal' blend and Mon Dieu was born.