Domaine de la Roche Bleue
La Guinguette
Domaine de la Roche Bleue La Guinguette
The perfect French 'vin de soif'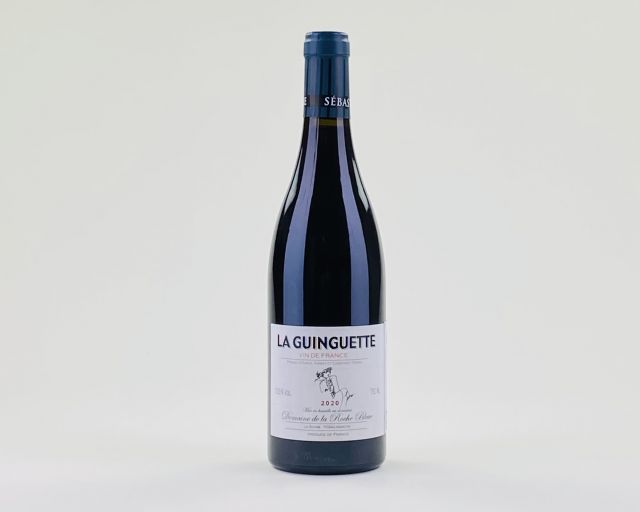 Mountains of crushed berries! Very smooth, almost creamy mouthfeel – this wine stays lifted, while also feeling rich. The perfect wine for when you're feeling like a red, but it's a bit warm outside. We have been a bit obsessed with Cabernet Franc this season and how well it seems to play with lighter brighter grapes (in this case Gamay and a lesser-known one called Pineau d'Aunis). La Guinguette (Gan-get) is winemaker, Sébastien's, vin de soif, meant to be consumed merrily and young (the wine, that is). The name refers to festive sites on the river where wine would flow easily.
Delicious With
Great with charcuterie of all kinds, mild cow's milk cheeses, and roasted meats. This wine is meant for food, with it's naturally lower tannin and beautiful acidity, it will stand up to big flavors and proteins, as well as delicately salty or sour sauces.
Their Cred
Sébastien Cornille founded Domaine de la Roche Bleue in 2007. Originally from Sancerre, he came to a small appellation in the Loire Valley by way of Réunion, where he had gone with three friends to make Chenin (that's right; on a volcano, off the coast of Madagascar). He went on to buy a few postage stamp vineyard parcels in what Sébastien considered to be the quintessential, even mythical, terroir 30 miles north of the city of Tours.  Starting in 2010, Sébastien embarked upon organic viticulture. Certification came three years later, and today he works organically and uses some biodynamic methods (primarily scheduling certain operations according to the lunar cycle). His focus is on making wines as transparently as possible with minimal intervention. The wine decides. The main thing, Sébastien says, is to keep the soul of the wine, the freshness and the length.